Woooo! Putting together a local Star Wars game. So to keep things simple and straight-forward, I am using AntiPaladin Games FREE Mini-Six RPG System. Its based on the old West-End Games D6 RPG, but is more streamlined and easy to use. You can download the game for free here, and the character sheet here.
The game setting will be an Outer Rim campaign set in the Rise of the Empire era, shortly after the fall of the Republic. The region will begin in the Tammuz Sector, near Hutt Space. So smugglers, pirates and assorted scum and drifters are common.
Character Creation Guidelines
Characters may purchase the Sorcerer perk. Not all spells are available
in the game universe, this will be further detailed in my next post.
Might: Athletics, Brawling, Lift, Lightsaber, Melee, Stamina, Swimming
Agility: BFG, Dodge, Drive, Pilot, Pistol, Rifle, Stealth, Throwing
Wit: Computers/Androids, Cultures, Demolitions, Gunnery, Languages, History,
Magic, Medicine, Navigation, Repair, Science, Search, Security, Star Systems, Tracking
Charm: Command, Courage, Diplomacy, Gambling, Seduce, Streetwise
Racial Perks
Humans and Near-Humans are the base racial type.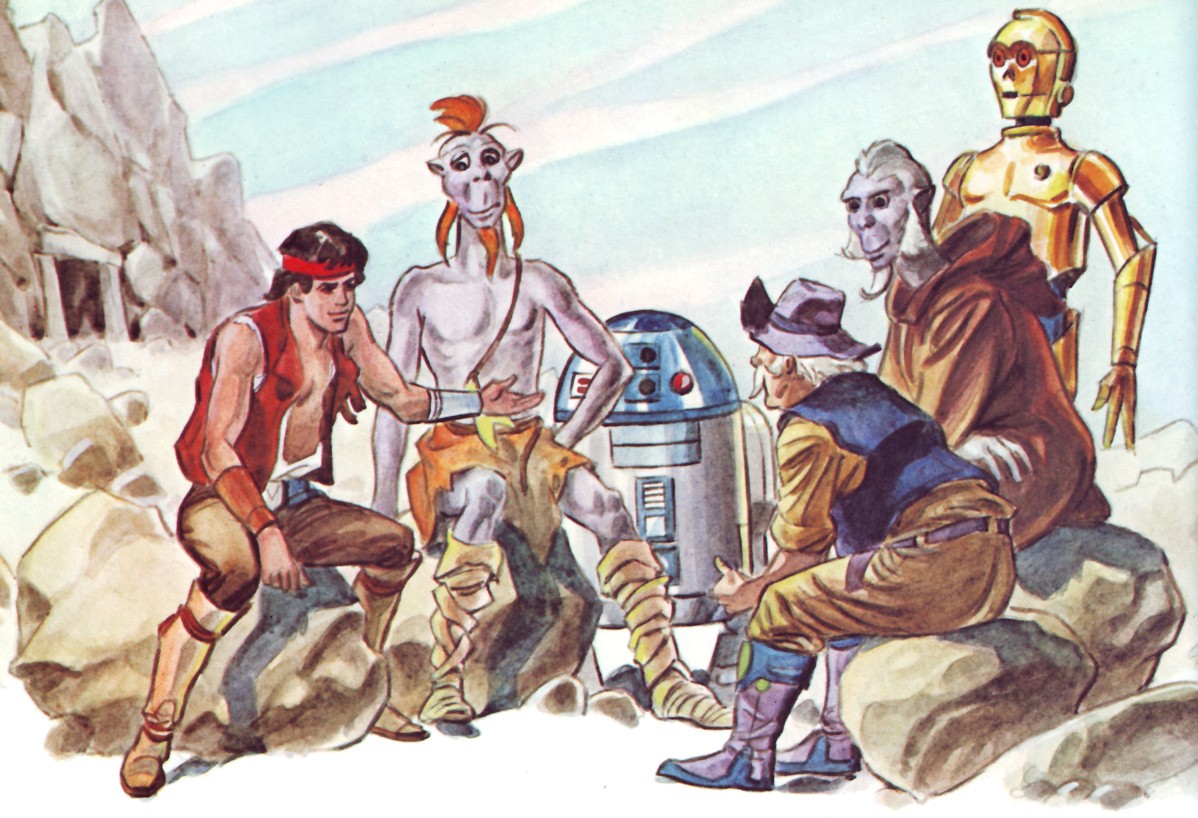 Two humans, two droids and two Tammuz-an.
Cyborg (2):
A significant portion of a cyborgs body has been replaced with artificial components. They require half the sustenance others need and can override electronic pain receptors. They suffer 1D less wound penalties than others when injured to Wounded or worse. However the TN of all healing rolls is increased by +5. Certain esoteric perks can be explained as additional implants, such as X-Ray Vision, Energy Blast, and Flight (see page 5 of the Mini-Six Rulebook).
Droid (4): Droids are the robotic servitors and soldiers of the Galaxy. They don't eat, breathe, or sleep. They can have your memory wiped, and they don't heal but can be repaired. As long as a droid characters memory core survives they may be rebuilt if destroyed.
Certain esoteric perks can be explained as additional droid components, such as X-Ray Vision, Energy Blast, and Flight (see page 5 of the Mini-Six Rulebook). Droids cannot take the Sorcerer Perk, or use Force imbues items.
Duros (1): The Duros are a humanoid species native to the planet Duro who are among the galaxy's first space faring civilizations. Duros have smooth blue-green skin, red eyes, lipless mouths, long thin noseless faces and green blood. They can raise their Agility and Wits to 4D, but may only raise their Might to 2D. Duros gain a +2 to the Drive and Pilot skills.
Jawa (1):
Jawa are a short species of scavengers who wear robes and like to tinker with gadgets others consider to be garbage. Jawas can raise their Agility and Wits to 4D, but their Might scores are limited to 2D. All Jawa must take the Small Complication. Also, Jawa characters receive +2 to the Pick Locks and Repair skills.
Ret
(2): The Ret are sapient reptilians, indigenous to Gelefil. They had heavy-lidded eyes and scales which changed colors with their emotions. They were also long-lived with the average lifespan of hundreds of years. Rets scaly skin grants a +1 Armor Value. They also have claw-tipped fingers which grant them +1 damage on unarmed attacks.
Tammuz-an
(2): The Tammuz-an people are a tall, gaunt humanoid species native to the planet of the same name. They were divided into two races: the purple-skinned Tammuz-an of the Kingdom of Julpa, and the blue-skinned inhabitants of the Outer Territories.
Tammuz-an can see in the dark, gain a +1 on Dodge. Their maximum Agility is 5D but their
maximum Charm is only 3D.
Twi'lek (+2): Twi'leks are an omnivorous humanoid species originating from the planet Ryloth. Their distinctive features included colorful skin, which varied in pigment from individual to individual, and a pair of shapely prehensile tentacles that grow from the base of their skulls.
Twi'leks are a charismatic and sociable species, whose maximum Charm is 5D, but whose maximim Brawn is 3D. All members of this species can see in the dark and have a +2 to Diplomacy, Seduce and Streetwise.
Ugnaught
(1): The Ugnaughts are porcine humanoids with slightly upturned noses from the planet Gentes. Compared to baseline humans, their height is considered short or dwarfed. Ugnaughts are industrious and loyal workers and also have a rich oral tradition. They are quite hardy, able to withstand long periods of discomfort, and live to around two hundred years of age.
Ugnaughts can see in the dark, and receive +2 to repair or any other craft skill. An Ugnaughts maximum Might is 5D but their maximum Agility is 3D.
Wookiee (1):
The Wookiees, whose name for themselves translated to the People of the Trees, were a species of tall, hairy humanoids that were inhabitants of the planet
Kashyyyk
. Wookiees have an intuitive understanding of spatial relationships that gives them a +2 bonus on Navigation, Search and Tracking. Their eyes also provide them with natural light amplification and filtering reducing all penalties for darkness by half. Wookies have a maximum Might of 5D but their maximum Wit
is 3D and their maximum Agility is 3D+1.
All of the General Perks on pages 4 and 5 of the Mini-Six Rulebook are available, plus the following:
Aristocrat (1): Your name has some weight on occasion. When attempting to gain access to a noble's residence, avoiding arrest, or any other occasion where status is a factor you can try and draw on your family. Once per session you can double the result of any one Charm based roll when attempting to exploit your name.
Wealthy (1): Old money, industrialist, or benefactor of ill-gotten gains, however you did it, you have money. Far more than most. Each month the character receives a stipend of $80 (10 times the average income).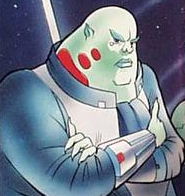 Vlix Oncard, Ret Enforcer
The complications listed on page 5 are fine. Plus the following options:
Bestial: You are a primitive being who is either from a animal-like alien species or a human from a Dark Planet. Wherever you are from your sight, sound and smell is more like that of an animal than a sentient creature. This must be roleplayed. You earn bonus CP any time this complicates your life.
Cursed: You bear an unnatural mark visible only to mediums and otherworldly entities. It is a sign that you have a dark fate awaiting you. Once per session the GM can rule any single roll to resist or prevent a metaphysical eff ect automatically fails. When the GM takes advantage of this, you earn 1 bonus CP.
Hunted: All rebels are sought by the Empire, but some are more sought after than others. This
is most often found among Jedi and other Force Users. The Empire has a standing bounty of 10,000 credits for information leading to the capture of any Jedi. Some Jedi have additional bounties attached to them. Hunted characters receive an additional CP when this becomes an active issue in the adventure.
Jedi Knight: This complication is only available to characters with the Sorcerer Perk. You can't harm anyone with your magic. Ever. Earn 1 bonus CP every session.
Large Debt: You owe someone a lot. Maybe one of your deals went bad, maybe you borrowed
to buy that ship you always wanted. No matter how it came about you are in debt. Most of your spare money is going to go to pay this off and whoever you owe will likely call on you from time to time to perform extra favors for them as a "friendly" form of interest. Gain 1 CP for any adventure where your debtor gets involved in your business.
Not Pretty Cunning: The character is uncouth and or
unattractive. Choose one Charm skill that the character can use
without penalty. Increase the difficulty of all other Charm skill
rolls by +5. Earn one bonus CP each session.
No Book Learning: The character didn't benefit from a Republic
education. Choose one Wit skill that the character can use without
penalty. Increase the difficulty of all other Wit skill rolls by +5.
Earn one bonus CP each session.
Sith: This complication is only available to characters with the Sorcerer Perk. The character has allied himself with the Dark Side of The Force. This tends to impress all the wrong people. You earn bonus CP any time this complicates your life.
Small: This is a Racial Complication. Player Characters gain this only if it goes with the race, or is a Small Near Human. Small characters receive a -5 penalty on all Might skill checks, Might based damage rolls, Block, and Parry. Th is penalty doesn't apply to Stamina, healing, and resisting damage. Th is penalty doesnt apply when fighting a

Small or Tiny creature. Earn 1 bonus CP each session.
Total Pacifist: This complication is frequently hard programmed into civilian androids to keep
them from turning on their masters.